Design Museum Danmark | Design Nu/Danish Design Now
July 12, 2017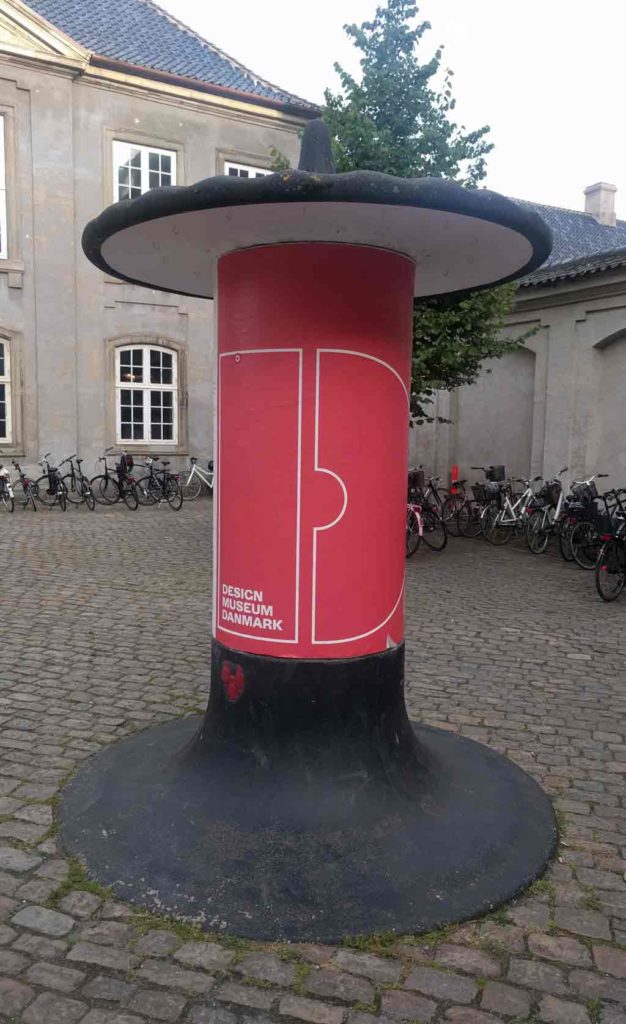 When I was in Copenhagen I was curious to see this exhibit about Danish design in the 21st century at the Museum of Design. I have always loved mid-century Danish design, and I wanted to see how it has evolved. With lots of beautiful and interesting objects, I was not disappointed. The exhibit makes a good case that Denmark has once again become a capital of the design world.
The exhibit revolves around several themes – New Danish Cool, Biomorphic/Zoomorphic Design, New Decorative Design, and Sustainable Design. While the layout of the exhibit was not strictly organized along these lines, the themes were clear in the pieces selected.
New Danish Cool is an evolution of the simple and elegant design sensibility that the Danes were famous for in the 1950's and 1960's. The consumer electronics on display were good examples of this. One piece was a portable speaker designed for Bang and Olufsen, who has been famous for their industrial design since the mid 20th century. The speaker has clean, simple lines and wood trim, but it also has a bit of a conceptual joke to it – it is shaped to look like a picnic basket.
Chairs have always been a mainstay of Scandinavian design, and there were a number of contemporary chairs on display, in a variety of materials. One fun and beautiful utilitarian object was a triangular dustpan and broom, where the broom fit neatly inside the dust pan. This piece felt very New Danish Cool.
Another theme, New Decorative Design, stood in contrast to Danish Cool. One beautiful example of this was "Mussel Mega" a new blue and white pottery design for Royal Copenhagen. There was a video where the designer explained her process. First she had designed some pieces where she had flipped the design, featuring the Royal Copenhagen mark on the pot and the floral design on the bottom. Then she tried blowing up the potter's mark as a decorative element. Finally she took that idea and magnified details of the iconic blue floral pattern and put these on the front of the pieces. This reminded me of post-modern — the designer took a traditional design language that everyone (especially Danes) is familiar with, and changed it in an unexpected way using technology (blowing up a hand painted design photographically).
The Biomorphic/Zoomorphic Design objects were playful and almost child-like. One fun example of this were ceramic alphabet letters, each designed to look like a different animal.
Sustainable Design was not a design style but rather an area where designers are trying to use their skill to change people's behavior for the better. By designing pleasing objects, they encourage consumers to not always make the easy choice. One example was an attractive composting bin, another was a unique cargo bike. By making these ugly utilitarian items beautiful, they make people want to compost or use a bicycle for transporting cargo. Another example of Sustainable Design were a series of decorative drains, to help cities cope with excess water and prevent flooding due to climate change. Again, by making the solution attractive, it makes people  (or citites) want to do good. They made three designs for the drains, one of these was a biomorphic leaf design, one was a futurist style cacophony of circles while a third was a minimalist design that played with positive and negative space.
This show reminded me of international design exhibits I've seen at the London Design Museum and the Cooper Hewitt. While Danish design is no longer as distinctive as it was in the mid 20th century, it was interesting to see how the Danes have revived their strong design tradition.