London Sewing Machine Museum
October 4, 2016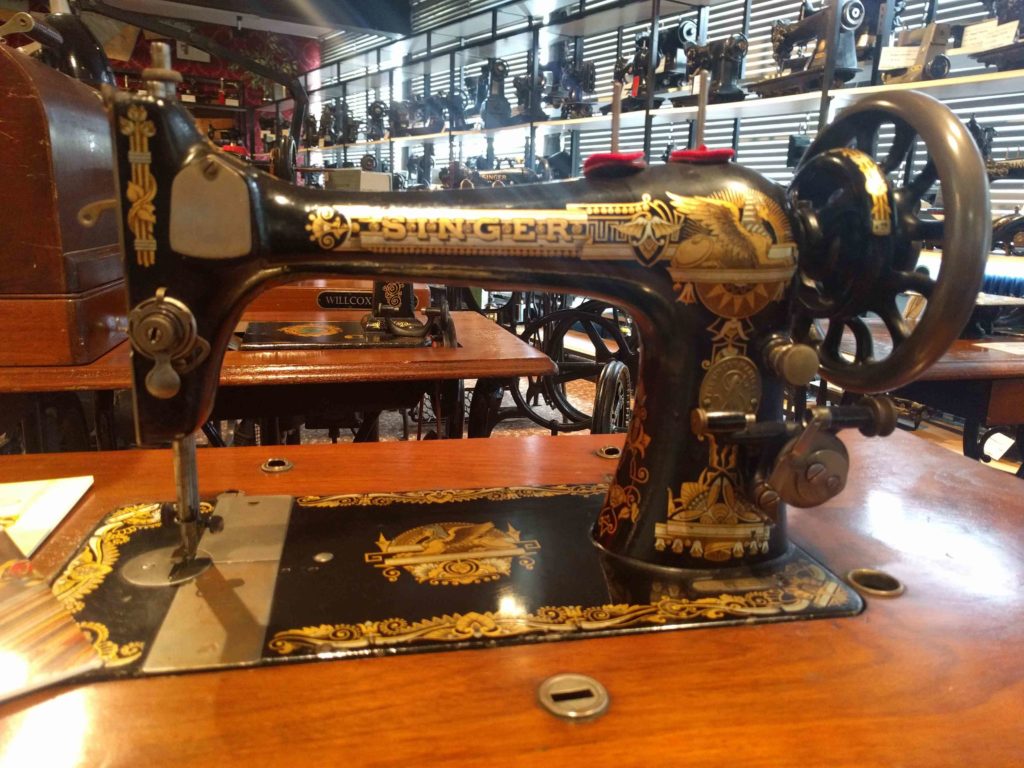 It's always a treat when a museum exceeds my expectations. I had expected the London Sewing Museum to be a quirky little place with a couple of impressive items, it turned out to have hundreds of beautiful sewing machines, and seemed to be a sampling of the history of 19th and 20th century design.
Housed above Wimbledon Sewing Machine Co., and open only once a month, this museum is the private collection that Ray Rushton, the company's owner, has amassed over the last 50 plus years. There are two main display rooms, packed to the gills with all sorts of machines, both home models and industrial.
The oldest is a Thimonnier from 1830, the worlds first practical sewing machine, invented by a French tailor who used the machines to sew uniforms for the French Army. The machine is made of wood, and is very crude, but it uses many of the same basic elements, from the chain-stitch to the foot treadle, that were used for next hundred years. Thimonnier's factory burnt down (allegedly by seamstresses worried about losing their jobs), but Ray managed to find one machine that survived, including paperwork. The London Museum of Science only has a copy of a Thimonnier machine, but this was the real thing. While it is amazing the difference between this machine and machines from 30 years later, one is reminded of advances in cell phones in their first 30 years. Once a new device becomes a "must have" possession for consumers around the world, there a mad rush to create the best design.
Another one with special historical value is a machine that was a wedding gift to Queen Victoria's eldest daughter, which is engraved with inscriptions and a picture of Windsor Palace. The spools are made of ivory, and are topped with haut-relief royal crests.
But what really excited me was the wonderful variety of all the machines, and how they reflected the time and place in which each one was created. One Victorian model was meant to be camouflaged as a beautiful writing table, and an other as a bronze sculpture of a lion. Others were decorated with floral motifs, or with very ornate logos. The variety of the foot pedals also caught my eye. Some of the 20th century machines had a modernist esthetic, eschewing decoration while still being very much designed.
Here is are some lovely decorative machines.
I liked the variety of decorative treadles.
Here are some industrial machines, with a different type of beauty.