Museumwinkel Albert Heijn
May 23, 2017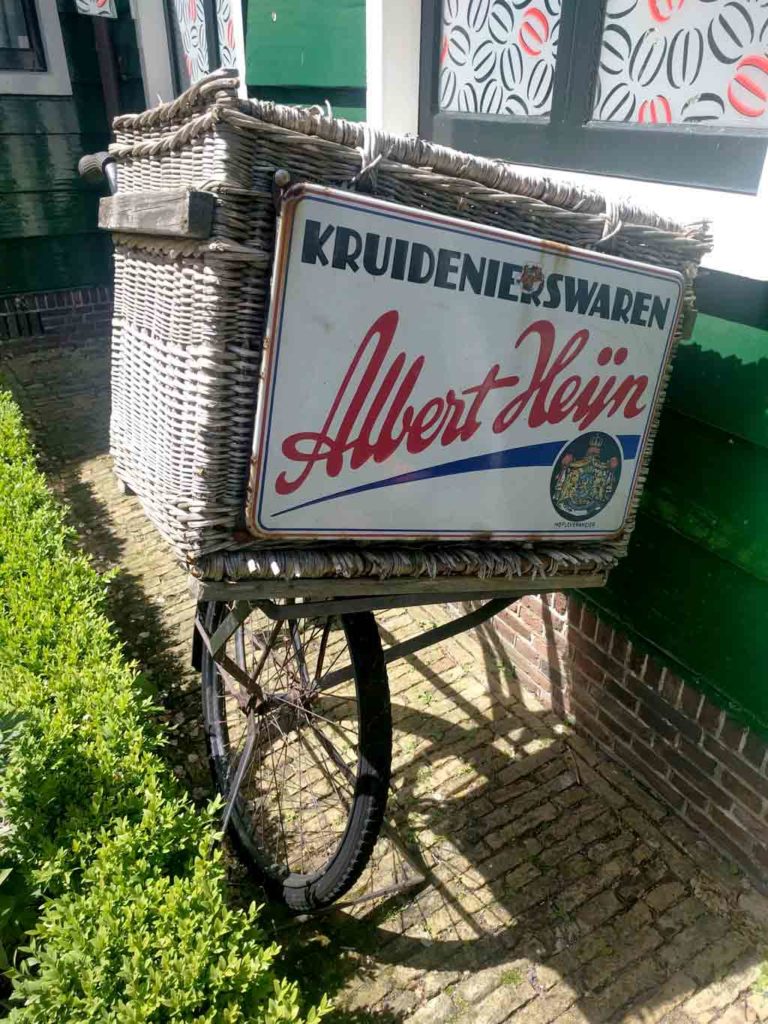 While staying in Amsterdam, we go to the Albert Heijn grocery store almost every day, so when I heard that the original store that Albert Heijn had started in 1887 had been turned into a museum in Zaans Schans I knew we would have to check it out. Many historical houses and windmills in Holland, threatened with destruction, have been moved to the touristic village of Zaans Schans for preservation, and the original Albert Heijn store, which was in Oostzaan, just north of Amsterdam was moved there as well.
The museum was filled with original furniture and fake food recreating how it would have been displayed in the 1880s. At that time, food was sold in bulk, rather than packaged as it is today. Dried foods were in bins, like in a health food store today. Sugar was sold in cylindrical surgarloaves. Meat and cheese were in a cabinet to keep out flies, but in the late 19th century stores did not have refrigeration.
One thing that struck me were the small paper bags that were hanging up on a wooden snake-shaped rack. Each bag was "branded" with a stamp but of course there were no plastic bags. Another was how liquor was sold — it was displayed in kegs and customers were expected to bring their own bottles (perhaps the clay bottles that the Dutch drink Oude Jenever is now sold in) for the proprietor to fill. While Albert Heijn created the first self-serve grocery in the country in the 1950s, this store is clearly set up for a shop keeper to measure and serve everything to the customer.
In the rear of the store, Albert Heijn had transformed an old laundry room into an area for coffee roasting. This area of the museum is now set up as an exhibit about the history of coffee. There are several coffee grinders on display — I perticularly liked the ceramic, wall-mounted ones. Also, there are cases showing the history of of Albert Heijn packaged coffee from the 20th century —  cans, boxes and vacuum packed bags.
I'll think of this place every time we buy beans at the local Albert Heijn Grocery.